Security Supply Discusses Vape Detection With the Providence Business News
Sniffing Out Vaping Students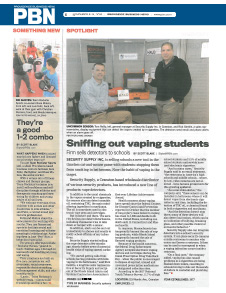 Security Supply Inc. is selling schools a new tool in the timeless cat-and-mouse game with students: stopping them from smoking in bathrooms. Now the habit of vaping is the target.
Security Supply, a Cranston-based wholesale distributor of various security products, has introduced a new line of products: vape detectors.
In addition to the usual chemicals in the vapors created by e-cigarettes, the sensors also can detect cannabis oil, containing TCH, the main mind-altering ingredient in marijuana. The oil is sometimes used in electronic vape pens and cartridges.
But it doesn't end there. The security devices can detect disturbances, including if someone tries to take down or tamper with a sensor.
In addition, alerts can be sent out immediately to phones and emails to notify school officials of any infractions.
Security Supply started selling the vape detectors a few months ago, shortly before news of potential health risks of vaping started surfacing.
"We started getting calls from schools having problems with kids vaping in the bathrooms," said Rick Gentile, a longtime sales representative at Security Supply and recipient of the Rhode Island Alarm and Systems Contractors Association's first-ever Lifetime Achievement Award.
Health concerns about vaping have spread since the federal Centers for Disease Control and Prevent ion reported in October that the number of lung-injury cases linked to vaping has risen to 1,299 and deaths to 26 in the United States, including one death each in Connecticut and Massachusetts.
In response, Massachusetts has temporarily banned the sale of vaping products, while Rhode Island temporarily banned the sale of flavored vaping products.
Because of the health concerns, the federal Drug Enforcement Agency accepted electronic vaping devise and cartridges during National Prescription Drug Take Back Day – when the public is encouraged to dispose of expired, unused and unwanted prescription medications at designated collection sites.
According to the 2017 National Youth Tobacco Survey, 11.7% of high school students and 3.3% of middle school students nationwide have used electronic cigarettes.
"And in many cases," Security Supply sad in an email statement, "the restrooms in America's high schools and middle schools – where, by law, video cameras are not allowed- have become ground zero for this growing epidemic."
"As a non-video device," the company said, "these sensors can be installed in bathrooms where it will detect vapor from electronic cigarettes in real time, including the detection of THC oil, a chemical found in both e-cigarettes and marijuana.
"And the detection doesn't stop there; many of these devices will also detect loud noises, which can be an indication of bullying, breaking glass, and other possible violent or anti-social behavior."
Security Supply also can integrate detectors into a school's security system. It can place security cameras outside restrooms to monitor who enters and leaves a restroom. It then can be used to correspond to when a vaping infraction occurs inside a restroom.
"On a final note," the company added, vaping has also caused problems as e-cigarettes are being flushed down toilets, resulting in schools having to dole out thousands of dollars in custodial and plumbing fees."