Speco Available at Security Supply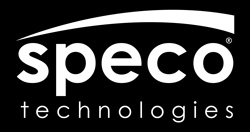 Speco's Intelligent Solutions provide you with answers for today's problems. They offer Facial Recognition cameras where an alarm can be triggered if a face is detected in a designated area. Alarms can also be triggered on specific faces, or recognized vs. unrecognized faces.
Speco products also include, Line Cross Counting which is the ability to maintain counts of people and/or vehicles. Alarms can also be triggered on excessive counts to control crowd density. People Detection virtually eliminates false motion alarms where analytic cameras and recorders with people detection can notify you of people in the scene and ignore everything else such as animals and precipitation. Alarms can be triggered if people enter view or a pre-defined region. Alarms can also be tailored to trigger upon entrance or exit of region.
Speco's Vehicle Detection and License Plate Recognition cameras Trigger motion that matters detecting vehicles, motorcycles, and even bicycles and captures and searches by license plate or by date and time and
Speco's Video Blurring / Scene Change or Tampering Detection technology alerts you when your surveillance camera is moved, loses focus or is physically altered.
The experts at Security Supply are your source for all Speco products. Contact Security Supply with any questions on your Speco needs.
To learn more about Speco, click here!